NAC Datacenter Information
Our servers are located in the world-class Net Access Corporation (NAC) datacenter.
NAC has been providing cutting-edge state of the art Internet services since 1995.
CLICK HERE to view the detailed NAC Network map.
NAC datacenter USA, 1719 Route 10 East, East Parsippany, NJ, USA 07054.
Our servers are housed inside this multi-million dollar datacenter so as to leverage off their massive investment into infrastructure and deliver the best possible hosting experience to our valued clients. By leveraging off their massive investment to infrastructure, our cash flow is positive from day 1 and we are able to focus on delivering exceptional support and customer care. You have total peace of mind in the knowledge that Shreffler Web Hosting Service is a cash flow positive and 100% debt free hosting provider.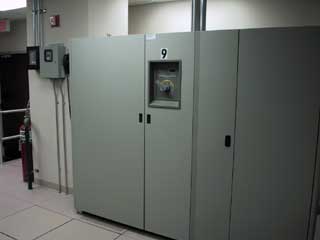 Enterprise Data Center fire extinguisher system Uninterruptible power system
- Technology -
The NAC datacenter realized early on that the best networks are made with top-grade equipment and skilled network engineers. This seems like a simple observation, but it is surprising how many companies either overlook it or decide that it's safe to economize. Economy is always nice until your network goes down, at which point you are likely to lose many times the money you saved.
The NAC datacenter uses quality network hardware and their technicians work around the clock, using such technologies as ATM and BGP dynamic routing to ensure that all systems run efficiently and smoothly.
Leibert air conditioner system Enterprise Data Center cabinets
- Equipment -
NAC has made significant investments in equipment from major vendors such as Cisco and Lucent. We feel that using industry leading equipment that has a proven track record is the best choice, and is well worth the extra expense.
- Backbone Connectivity -
The NAC connections to multiple backbone providers, and peering with many carriers on a regional and international basis, allows us to easily reach remote networks even in the case where a NAP may be unhealthy, or when a specific backbone connection is down. It also allows us to make intelligent routing decisions; for example, if we are trying to reach a remote network which is on the Sprint network, there's no reason to send it out to UUNET first.
Leibert air conditioner Air conditioner panel
- Node Reliability -
By placing the NAC core nodes at places like Equinix and Telehouse, we are guaranteed a level of competent service. All of their core nodes employ SONET networks, which essentially provides a dual-redundant, counter-rotating ring technology, and in the event of a fiber cut, the SONET will automatically heal itself. We also divide our circuits among several telecommunications providers, such as Verizon, MFS/Worldcom, and Adelphia.
- Expertise -
NAC invests a significant amount of time and money in their staff to make sure that they are knowledgeable and are capable of helping and handling our customers. A network is only as good as the people who manage it!
Security camera Enterprise Data Center
- Monitoring -
The NAC staff is working around the clock to ensure that the network is operating at optimum state. They continually review collected statistics to watch for traffic trends so that we can react with the proper routing adjustments and bandwidth addition.
Fingerprint biometric entry access scanner Uninterruptible power system